"I am so screwed."
My pulse begin to race and my head start to swim.
"I'm such a fucking failure and he is going to leave me now, for sure."
"He can do so much better, I wish he WOULD leave me."
The thoughts came faster and my heart was going to jump out of my chest.
I. Was. Useless.
My husband looked at me, and I could see he was trying not to yell at me, but clearly, he was pissed.
"Never-mind, I'll just get a cab, I guess."
Our second vehicle was needing repaired and I couldn't even follow him to the car place. Scratch that, I couldn't even back out of our designated parking space, that was in front of our apartment building.
I could'nt drive AT ALL.
You may be wondering why we had two vehicles then. Great question. Although I never asked, I kind of know the answer.
Hope.
Hope that I would be able to start driving soon and be able to go to doctor appointments alone or do some grocery shopping. Hope that I would be able to relieve some of my poor husband's burden. He was tired. He had to be. He worked full time in the Air Force as a Jet Mechanic and then he had to do the jobs of a stay-at-home mom, as well.
God Bless him, he stuck it out. For better or for worse, and I was def at my worst.
People asked me why I didn't drive and they tried to get my husband to explain why I couldn't drive. I am sure he was clearly embarrassed to tell his employer for the umpteenth time why he had to leave work early, yet again, to cart me off somewhere.
We really didn't have answers.
I guess if I had to tell you, it would still be clear as mud.
The only bad experience I had in a car was when I was a kid. I was reading a book, in the backseat, and all of a sudden, a head went through the passenger side window, where my mother was sitting. I remember not knowing what happened and glass was EVERYWHERE.
We looked back behind us and there was a man lying in the middle of the road, next to his bicycle. I don't know if my dad cut him off by accident or if he just didn't see him, or if maybe the guy wasn't paying attention and rammed into us. It doesn't matter at this point. I just know it was the worst feeling ever. I wasn't paying attention and the next thing I knew, something very bad happened.
This experience, combined with my father's own anxiety issues that he further encouraged in me, I believe, was the perfect storm.
You know the Roadrunner and Coyote episodes in Loony Toons? It became sort of like that. There would be nothing around, no people for miles. In my head, I would picture stepping into the road to cross the street, and would imagine a car promptly running me over.
Transfer that thought over to actually driving and there was an issue. Not only was I responsible for keeping myself safe, but others as well.
I didn't get my license until I was 18. I never asked to and my parents never pushed me to. In fact, it was kind of discouraged. Thank God my aunt and sister stepped in and not only did they teach me to drive, my aunt also took me to my driving test, which I passed.
My one rule, set by my father, was to never park near other cars. If I went to the store, I was to park allll the way in the back and he was going to check and make sure I did that.
I believe this further increased my anxiety and self doubt, and took away any learning opportunities of parking in different situations.
It wasn't fair and it seriously stunted my independence.
If there was a small parking lot, I would freak out, because I couldn't park next to other cars. Now it wasn't just because of my father's rule, it was because I didn't know how to actually park near other cars.
Fast forwarding.....
My first duty station, along with my husband's, was Kadena AFB in Okinawa Japan. (How I got into the military with my issues, is a whole other blog.)
For those who don't see where I am going with this, here ya go.
People in Japan drive on the other side of the road.
Here I was, 19 years old, no parking experience, very limited driving experienced and now I was supposed to drive on the other side of the road.
Fuck that shit.
Not happening, sister!
I am not sure if you know, but I ended up doing
a little stint in a mental hospital
. You see, you can't go through life with that much fear and insecurity and not end up breaking down at some point.
I eventually started driving, but it is still a definite work in progress. I did back into a tree once, but it has been my only accident and I have never gotten a ticket. :::knocking on wood:::
I'm not an expert and everyone's situation is different. What worked for me, might not work for you, but it is worth a try.
1. My personal first step was proper medication. You can try this and proceed, or you can skip it and try these tips anyway.
Something that I commonly do, is use the hell out of Google Maps and Street View. Learning directions and the area, visually, from the comfort of my own home.
Priceless.
I can see what the building looks like and "drive" the whole route, virtually online. There is even an option that you can click, to avoid highways. I love that feature, because I am not at the point yet, where I feel comfortable attempting to drive on one. (One day, though!)
(Funny side-note: When I first started driving, I refused to take left turns. I would only take right turns, because left turns terrified me. I was afraid of holding up traffic and not knowing the right time to turn. I am now proud to say, I can make awesome left turns.)
Finally, I look up the business and see what the inside looks like, as most businesses owners post pictures of their interior. Having some familiar scenery helps, when my anxiety is kicking up
2. When I feel myself getting worked up, while driving, , I take the trip in by inch...literally.
An example of of huge anxiety situation for me, would be another vehichle sharing a narrow road with me and it is coming from the opposite direction.
If I know a vehicle will be passing by me soon, (on that narrow road) I divert my eyes to the right side of the road. The very edge, I mean. I know I just need to concentrate on staying on that edge for a few seconds and the other vehicle will be past me quickly.
3. If I am driving on a dark road and no cars are really around me, I sometimes feel "lost." This is when I also use the eye bouncing trick. My fucked up mind will tell me that the road will vanish and I won't know where the road curves. I take about 1 1/2 seconds , find that line on the edge of the road and dissect my drive piece by piece. If I can find that line, for even one second, I am ok. This eye bouncing trick has calmed me numerous times.
Look, I have been there. I have looked at myself and been disgusted that I can't do things that "normal" people can do without any effort. I have wanted to leave my husband and kids because I wasn't good enough for them. I have begged my husband to leave me because they needed a real mother, one that could drive and take them not only to doctor's appointments, but to birthday parties, as well. I have wanted to put that gun against my head and pull the trigger because I was a waste of space and I wasn't worth the trouble I caused for my husband at work.
If you are feeling these things now, then honey, I hear you. I want you to know that even if it looks as though your world will never change and things will never get better, there is a chance that it will. Even just a chance is worth staying alive for, right?
You can do this, even if it seems that right now, it is impossible.
You can write me and know that I understand where you are at and where you need to be.
I was thrilled when I could back out of the driveway. My friends prob wouldn't have understood how huge that was back then, but how could they?
I want to hear about your journey. Where are you now, where do you want to be and do you need me to celebrate your accomplishments with you?
It isn't coincidence that road trips are referred to as "going on a journey". For some of us, it is just too damn true.
Thanks for reading ;)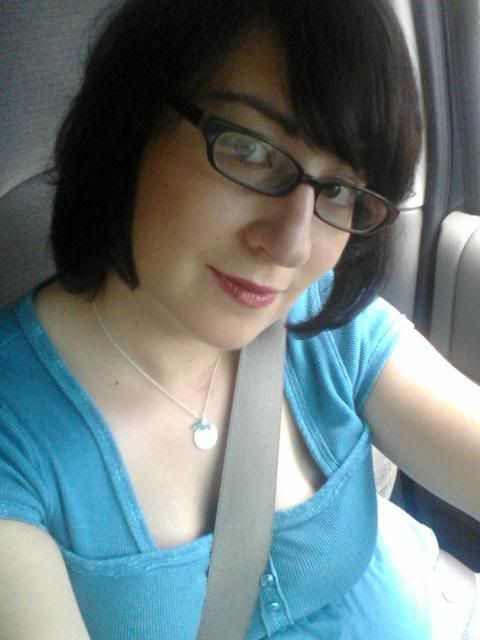 Me, when I finally got out of the fucking driveway